Sleep time never looked this comfortable before.




Use code SLEEPFIRST on your first purchase!
Shop Now
BENEFITS OF A WEIGHTED BLANKET
A weight on. A load off.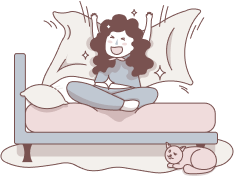 Reduce Anxiety
Uses Deep Touch Pressure Therapy to relax your body's pressure points, stimulating the feeling of being hugged. This increases your body's happy hormones and leaves you relaxed.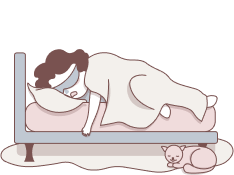 Improve Sleep
By pushing the body downwards, our weighted blankets use the process of grounding to create a deeply calming effect. This results in a blanket that hugs you back.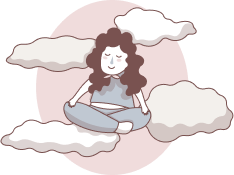 Wake Up Rested
Our weighted blankets help you sleep faster & deeper through the course of the night, making you feel fresh and well-rested when you wake up.
Build your bedroom with Tucked In
From throws to bedcovers to weighted blankets, we not only want you to build the perfect looking bed,
but also get that sleep you deserve.
What Our Sleepy Customers Say
On day one, I could tell the difference in the quality of my sleep. But I decided to give it another couple of days to decide if it truly had made a difference or if it was all just in my head. By day two I was certain that the quality of my sleep had transformed; forever! That morning on my way out to work, I decided to put the blanket on my husband who was fast asleep. When he woke up, the first thing he did was to call me and ask "What is this blanket you put on me!? I've never slept soo well and my body feels different!". The blanket had clearly worked its magic on him too, so we recently bought another one for him. As of this morning, we've placed an order for 6 more blankets because we would like to gift them to some of ours closest friends and help 'transform' the quality of their sleep too.
Deepika Padukone
Actor & Producer
I am enjoying the blanket and am slowly getting used to it. I do see an improvement in my sleep patterns. I have recommended this to several people already.
Abhinav Bindra
Olympic Gold Medalist
"Tucked-in weighted blanket gives a luxurious feel to boost my sleeping experience. There is something about being cushioned. The gentle pressure makes me feel more relaxed and makes my sleep feel easier through the night.  Excellent quality with micro glass beads filling and breathable fabric makes it thin, less bulky, and absolutely quiet so no shifting noises whenever you turn.One of the best blankets on the market! A totally worthy investment for your well-rested nights and waking up feeling fully recharged!" 
Dr. Monika Sharma
Founder - Sleep Moksha
I bought the weighted quilts for my parents. My mother has arthritis and my father has many joint pains as well. They used it last night and woke up refreshed and without pains and told me it's the first time they've slept so soundly in very long! So thank you so much.
Nanditha Gopal
Professional
I bought one of your weighted blankets a couple weeks ago, and I'm not kidding, my life has changed. I sleep better and deeper, and it's almost impossible for me to get out of bed in the morning. I've recommended it to ALL my friends. It's a great product!
Pahini Kapadia
Customer
The blanket is extremely cozy and I can't sleep without it anymore. I am really fidgety when I try to sleep, and this weighted blanket helps calm my body and has reduced the amount of times I wake up at night. Highly recommend!!
Parina Gujral
Product Designer
Thank you Tucked In Blankets for the most amazing product. I haven't slept so well in years! Can't Imagine sleeping without my weighted blanket anymore. I even make sure to pack it with me every time I travel,
Aarya Singh
Athlete
Weighted Blankets was a totally new concept for me but after reading research articles online about the benefits of them, I decided to buy one from Tucked In. Unexpectedly, I started to see a difference from the first night. Now, my sleep cycle has transformed completely. I sleep like a baby every night! 
Gauri K.
Teacher
Guys with anxiety, sleeplessness, stress, insomnia, I highly highly recommend this weighted blanket! It is simply an amazing product and has transformed my life completely.
Arjun Kapoor
Professional
I bought a Tucked In weighted blanket a few weeks back. Not only does it help me sleep better at night, it also makes me feel refreshed in the morning. I have bought many weighted blankets since then for my family and friends. Highly recommend. 
Raghav Punj
Lawyer
Best purchase in a while. My whole family depends on this weighted blanket now. So glad these are available in India now. Keep up the good work Tucked In!
Sanya Kohli
Business Owner
I got a customized weighted blanket from House of Charu and it has been a blessing. Their customer service is prompt, helpful and had my weighted blanket delivered to me before the promised time frame. Just a wonderful company with wonderful products. 
Anya T
Student
I recently bought blankets for my daughter and me. We are both sleeping so much deeper and better since we started using them! They feel absolutely amazing.
Gautam John
Customer
Highly Recommended! This House of Charu weighted blanket is by far the best one available in India. I have tried the same blanket from multiple brands but the feel, fabric and overall quality of this one is far superior. I have seen a significantly positive difference in my sleep pattern. I sleep longer, and wake up feeling absolutely refreshed every morning. I have already placed an order for multiple more and will continue spreading the word about these blankets to everyone I know. Thank you for this amazing product!
Charanjeet Singh
Customer
I was slightly skeptical to try this product but after hearing about it from multiple people, I decided to give it a try. And I am glad that I did. This blanket has changed the way I sleep completely. The weight, the quality, the customer service, the packaging- everything was amazing. I have used House of Charu's products many times before and have always been extremely happy with them. Safe to say I will be buying all my bedding products only from them.
Tushar Kant
Customer
Been getting the best sleep every single night. Still can't believe how rested I feel every morning. Absolutely in love with my weighted blanket.
Kavya P
Professional
Sensational Product. Whole family loves it. Excellent packaging and customer service as well. Amazing experience overall.
Ishan Malhotra
Professional